North Bay is an opportunity-filled community that is perfect for anyone looking for a balance of a good lifestyle and great job prospects. With around 52,662 people living there and 112,000 in the surrounding areas, North Bay provides opportunities to access larger Canadian and U.S markets while still maintaining a small-town feel.
We are a business-friendly community with low-cost serviced industrial land, multinational businesses living in harmony among beautiful parks and recreational facilities outside of the vibrant downtown core, a state-of-the-art regional health care center, and extensive educational infrastructure.
The rich and varied history and natural environment of North Bay are some of the city's most prominent features. Fresh air, abundant clean water, plenty of greenery for outdoor activity, and low-density living with all of the advantages of full urban services are just a few of the benefits enjoyed by inhabitants of North Bay and the surrounding areas. Living in North Bay is both safe and inexpensive, from condo-by-the-lake residency to modern executive-style homes to old-world Victorian housing.
North Bay has one of the lowest crime rates in all of Ontario. It is a safe community to live in. Urban North Bay straddles a land bridge between the Ottawa River and the Great Lakes basin. Trout Lake, at the city's eastern border, is the headwaters of the Mattawa River and source of its drinking water, which holds distinction as one of Ontario's best-quality drinking water sources. The waterfront area on Lake Nipissing in North Bay is the city's beating heart, featuring a beautiful walkway graced with lovely gardens, a museum, and a public marina.
If you like the outdoors and want bigger city amenities while still feeling a sense of small, secure community, the North Bay is an ideal spot to reside.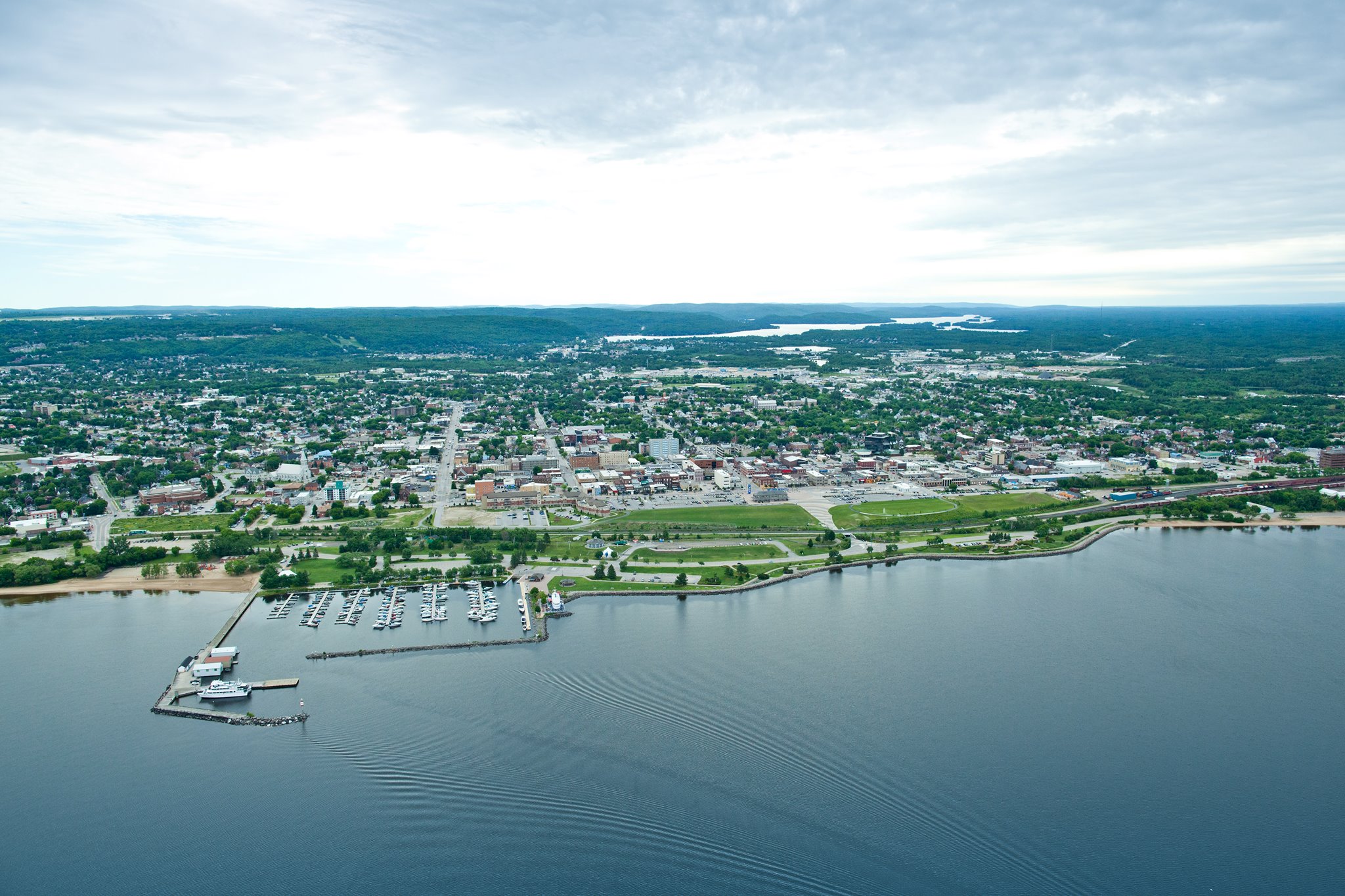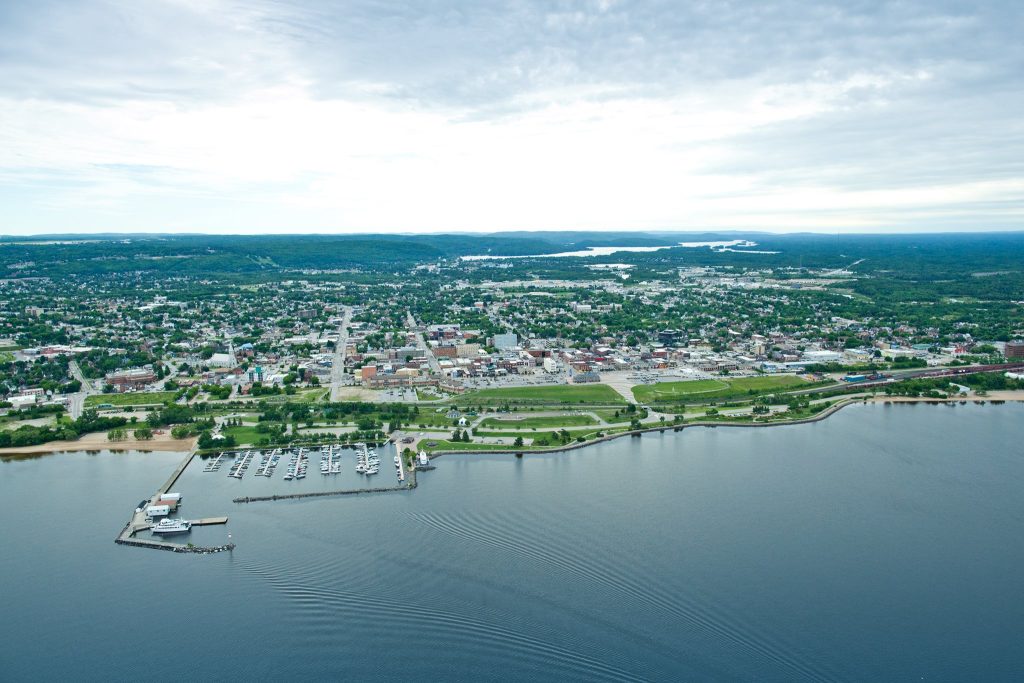 History of Northbay
North Bay has been a transportation centre since its inception as a Nipissing First Nation village in the 17th century. The Voyageurs, a renowned system of rivers and waterways that led to the interior of North America and along which many legendary explorers traveled in search of fame and wealth, run through North Bay.
The waterway that Samuel de Champlain explored in 1615, the Ottawa and Mattawa Rivers' waterway, runs along an ancient fracture in the Canadian Shield that now serves as the backdrop for North Bay, Ontario's North Bay escarpment. The trans-continental railway was blocked by a topographic barrier; therefore, it hugged the shores of Lake Nipissing rather than passing through this area.
The construction of the Canadian Pacific Railway, the Canadian National Railways, and the Ontario Northland Railway established North Bay as a major transportation hub for its surrounding areas. The arrival of these railways allowed lumber and other natural resources to be traded more easily, jumpstarting local economies.
The availability of key resources (nickel, iron, copper, gold, platinum, silver and cobalt) drew industrial development to the area. As mining and lumber industries prospered in the nearby regions, North Bay became a hub for supply and regional education and health care. The city also developed thriving personal and professional services sectors.
The Future Has Already Begun in North Bay
North Bay is welcoming a new wave of people as a result of community engagement efforts such as the "Growth Community Improvement Plan," which was designed to encourage individuals to work, live, play and learn in the city's core. North Bay is welcoming a new generation of residents as the City strives to maintain a diversified and resilient local economy. Community improvement plans enable municipalities under the Planning Act and Municipal Act to create possibilities in exchange for private sector investment and development in targeted areas of town.
The "Downtown Target Area Plan" for North Bay has the following goals and objectives:
Create new, long-term employment or full-time equivalent work opportunities;
In order to Stimulate Downtown Growth, Encourage Infill Development.
Improve the physical condition of buildings while providing new usable space.
Increase the number of apartments;
Increasing the number of professional workers will help improve your business.
Determine whether any previous attempts have been made to increase value or improve the look of your home, and if so, when.
Develop vacant or underutilized spaces or properties.
Bring in customers;
The City of North Bay's Official Plan designates 4 target areas, one of which is the Downtown. In total, 35 applications have been approved for these areas. The private sector will invest approximately 97 million dollars in contrast to the 1.2 million dollars coming from the City. This project will also create around 213 jobs and 251 residential units, making North Bay a more vibrant place to live in Northern Ontario.
The City of North Bay
North Bay is a region rich in culture and natural beauty. Home to many small communities, it boasts some great institutions such as NorthBay Medical Center or Thibeault Terrace Community Center that offer something for everyone! The opportunities here combine the outdoors with industry; this area has an advantage when pursuing your career choice because there are so many different sectors available – from aerospace manufacturing through information tech savvy technologies like software development companies who specialize on cloud computing platforms . It would be easy-sided if you thought about how much more advanced our society actually becomes nowadays due largely thanks to these innovative minds coming out of nowhere within reasonable distance apart just waiting patiently until they're needed.
The city of North Bay is home to two world-class post secondary institutions, Nipissing University and Canadore College. Together they enroll approximately 9000 full time students each year
While the roots for both schools extend back many decades in history with The North Bay Normal School evolving into what we know today as Laurdian university who was then able receive its charter as an independent institution becoming one primarily attended by undergraduate learners but also interested professionals seeking Arts & Sciences careers or skilled trades training programs.
North Bay's construction and manufacturing industries are diverse. With capabilities that range from design-build/support services with teams of qualified architects, designers engineers contractors fabricators builders specializing in industry commercial civil residential projects North bay has implemented an successful strategy for these sectors by attracting complementary companies who engineer products made globally market ranging anywhere between fuel cell powered locomotives to building consumables such as drills holes pedal boats servo writers etc.
Did you know…
North Bay ranks as the #1 place in Ontario to buy real estate
MoneySense magazine ranks North Bay as the #1 place in Ontario to buy real estate.
North Bay is the No. 1 U-Haul® growth city in Canada
U-Haul names North Bay Canada's top growth City for the second year in a row.
One of the top 20 best investment locations in Canada 
Site Selection Canada recently recognized North Bay as one of the top 20 best investment locations in Canada.
Most affordable real estate region in Ontario
Toronto Storeys lists the City as the most affordable real estate region in Ontario.
2020 Winner of the fastest Mobile Networks 
The City was also named the 2020 winner of the fastest Mobile Networks by CMag.com.
One of the most livable places in Canada
Ratesdotca's 2021 Livability Report ranks the City of North Bay 48th out of 166 communities in Canada as one of the most livable places, based on a variety of criteria. One of the many advantages is the affordable average price to purchase a home at $270,400.
FAQ
What kind of government-funded projects are coming to North Bay?
The Ontario government will invest $10.2 billion over the next 12 years in rural and northern communities as part of the Investing in Canada Plan. This is in addition to the federal government's investment of more than $180 billion for public transit, green infrastructure, social infrastructure, and trade and transportation corridors.
Should I invest in North Bay?
3 Reasons to Invest in North Bay. There is a large student population in North Bay, making the rental market tight. This creates opportunities for investors. The city continues to grow, with new businesses and developments popping up all the time. North Bay is a beautiful place to live, work, and raise a family – meaning there will always be demand for housing here."
Because of the high demand for rental housing, you won't have to find a tenant. You will be found. Second, North Bay is an industrial city with a significant number of inhabitants who work in manufacturing industries. The city has devised a successful approach for these areas by attracting and retaining a wide range of complementary workers who develop products for the global market. This is another group of people in need of housing, especially as the sector expands and attracts more local and international workers. Finally, with the epidemic raging, North Bay is a dynamic city with outstanding growth potential that has lured individuals from all across Canada who work remotely now due to the pandemic. The possibilities are endless in this area.
Why should I buy a condo in North Bay?
New condos not only allow you to select your design finishes like flooring, tiles, faucets, cabinets, and countertops but are also clean and energy-efficient, requiring far fewer repairs (if any) than your average "resale" home. This is especially important if you are buying a condo in North Bay as an investment.
Your tenant's rent will cover most or all of your monthly expenses, plus maintenance fees and TARION coverage will keep your investment in good condition. You can live anywhere in the world and know that your property is being taken care of.