Hello, GTA! Team Arora, your trusted real estate partner, is here with some exciting news about a transformative development project in our beloved city. A quiet residential street in Toronto's Mount Dennis neighbourhood is set to undergo a significant transformation, promising to redefine the local skyline and bring a fresh wave of urban living.
KingSett Capital, a leading private equity real estate investment business, has proposed a project that will replace an entire block of single-family homes on Denarda Street with a new two-tower condominium complex.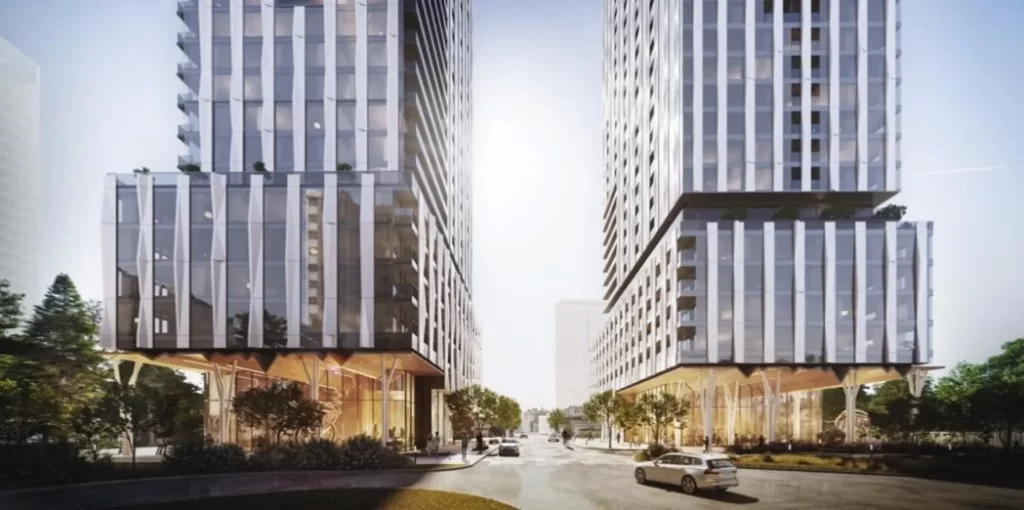 This ambitious project will introduce 509 condominium units, including a mix of studios, one-bedroom, two-bedroom, and three-bedroom suites, catering to a diverse range of residents.
The development is not just about high-rise buildings; it's about creating a community. The towers will offer over 2,000 square meters of amenities per building, including green roofs, children's play areas, and pet-friendly features. Plus, the complex will provide ample parking spaces for both vehicles and bicycles, ensuring residents' transportation needs are met.
But the transformation doesn't stop at the buildings. The project aims to enhance the public realm along Denarda Street, creating an inviting and attractive streetscape with widened sidewalks and lush landscaping. A new public parkland will also be established, serving both future residents and the broader community.
One of the most exciting aspects of this development is its strategic location. With the planned Eglinton Crosstown West Extension and several existing TTC bus routes within walking distance, and the Weston GO Station just an 11-minute bus ride away, residents will have easy access to the best of what the GTA has to offer.
At Team Arora, we believe that this development represents a significant step forward in urban living, bringing together modern housing, community amenities, and excellent transit connectivity. As the number one real estate agency in the GTA, we're excited to help you navigate these changes and find your perfect home in this evolving cityscape.
Stay tuned to our blog for more updates on this development and other real estate news in the GTA. Remember, whether you're buying or selling, Team Arora is here to guide you every step of the way.
(Source)