Brampton has become one of the most expensive suburban communities in Ontario. And it's only getting hotter. Experts think this won't change anytime soon and predict that residential prices will continue to rise at an exponential rate. Investors are rejoicing at this news- but will things stay hot forever?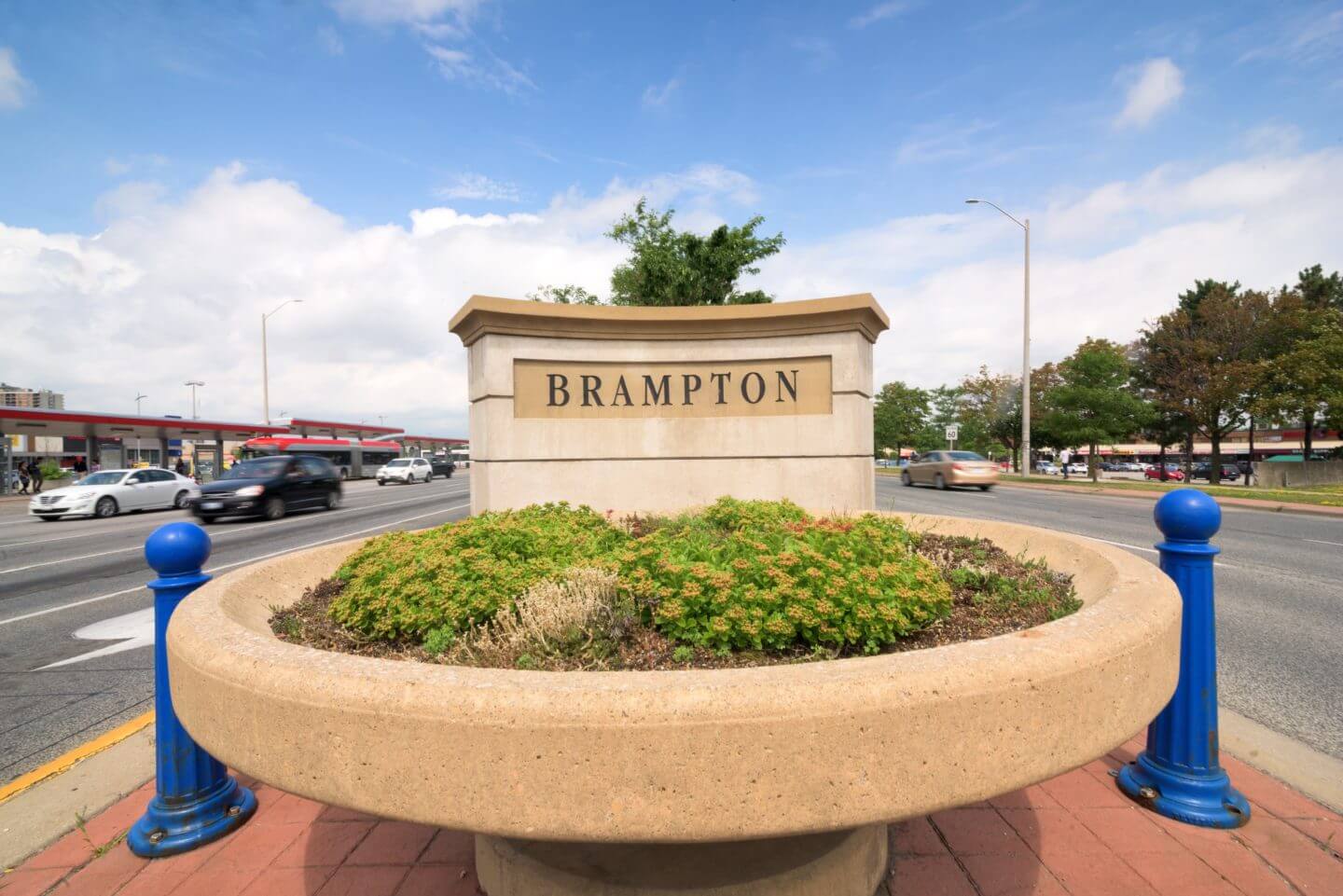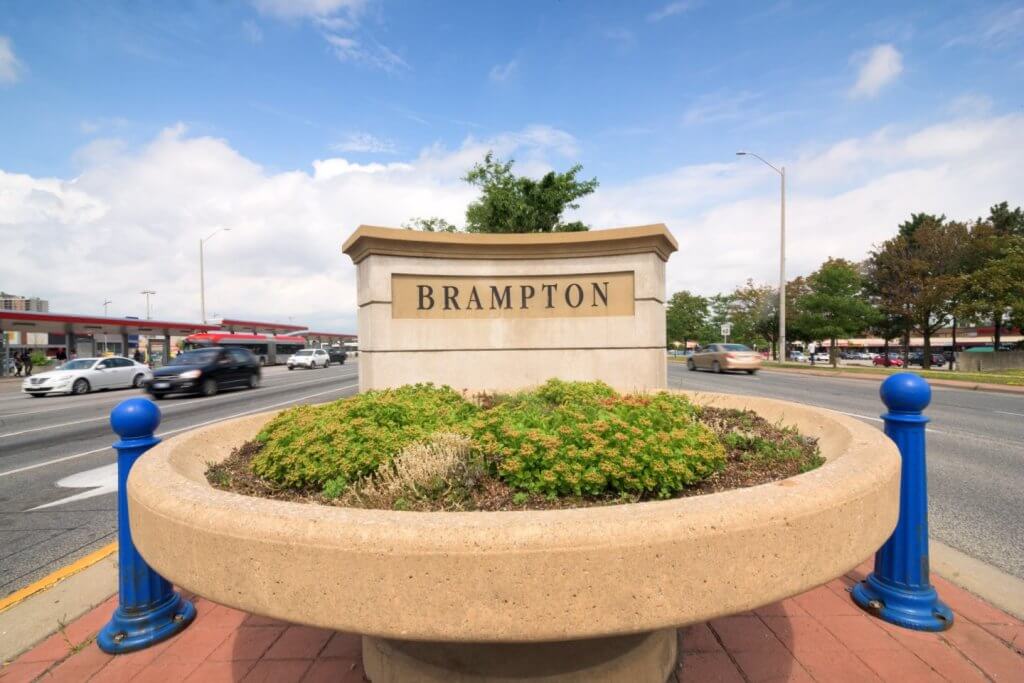 Also read: Canada's housing markets are finally moving back towards balance (June 2022)
About Brampton.
According to the latest census, it is the third largest city in Ontario and ninth-largest municipality in all of Canada. With a population of just over 649,000 people – this small town has grown quickly from what was once nothing but farmland. And despite being considered a suburb of Toronto, its growth shows no signs of slowing down anytime soon.
After setting new benchmarks for five consecutive months, this continued trend was evident yet again in January 2022 when Brampton set another new benchmark – now home prices are soaring. It doesn't stop there though; the average selling price of homes sold in Brampton reached $1,367,444 – a 41% increase from last year and making it one of the most expensive housing markets in Canada. One more thing worth mentioning is that this is six consecutive months where they've broken all-time home price records.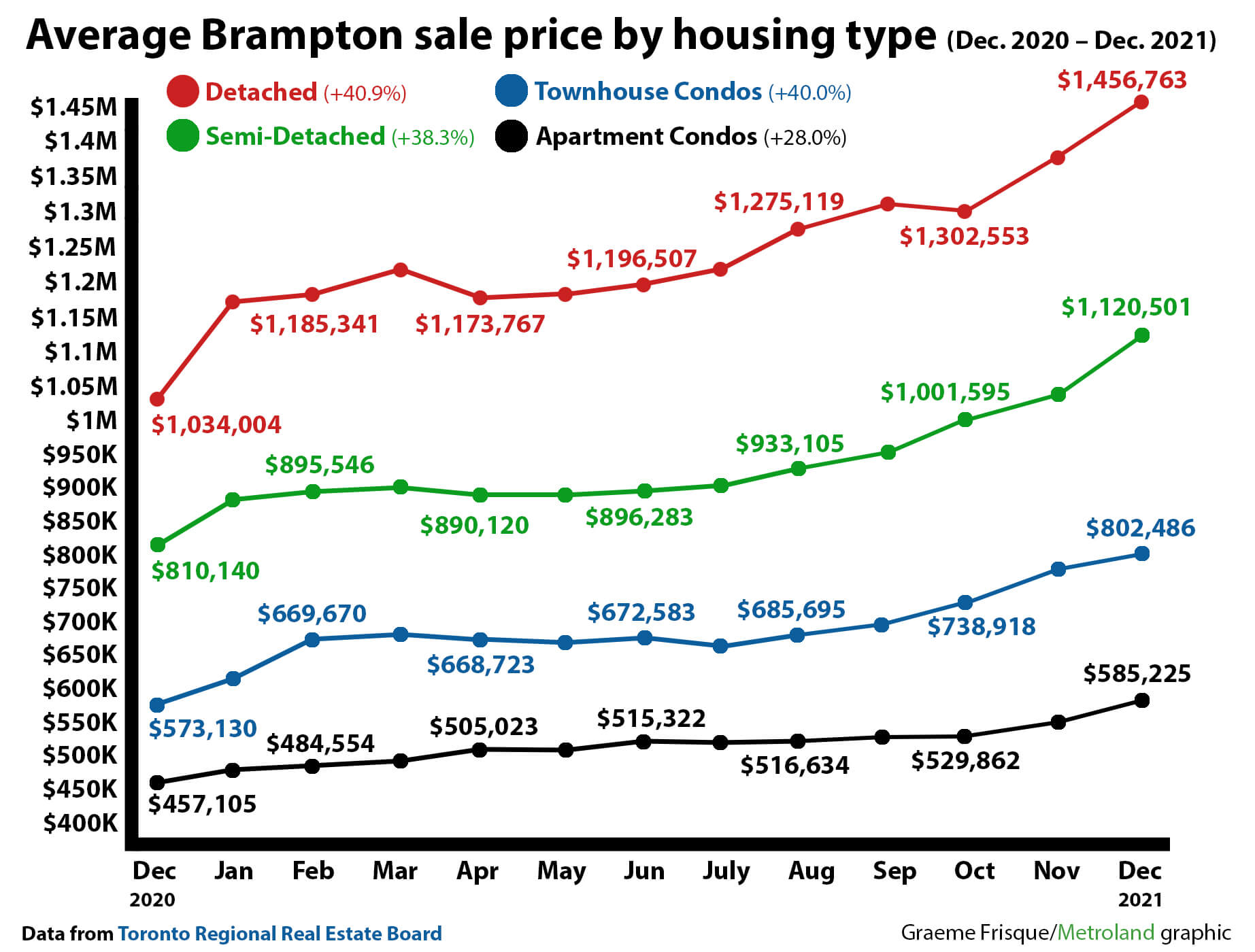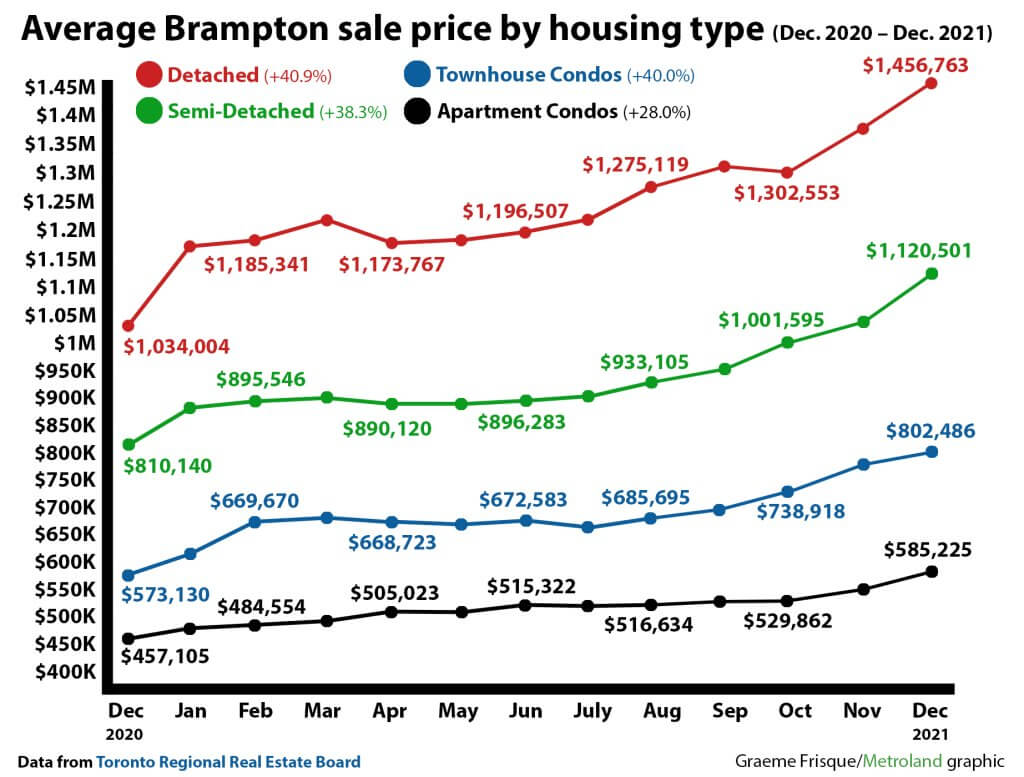 However, detached houses comprise a higher percentage of the housing market in Brampton in comparison with Metro Vancouver and Toronto. The distribution of properties in each city plays a significant part in the overall average of price of homes. Condos, with lower average prices, comprised 36 percent in the Greater Toronto's real estate market however only 6% of Brampton's residential market at the beginning of 2022.
Examining specific types of property in the month of January, 2022 detached houses have the highest year-over-year increase, rising 41.4 percent over last year, and 13.4 percent compared to the previous month. The average price for selling a detached house in Brampton is currently $1,652,088, which is a record. This means that the median cost of a detached house has increased by $484,020 in the past year and $1953,325 over the last month.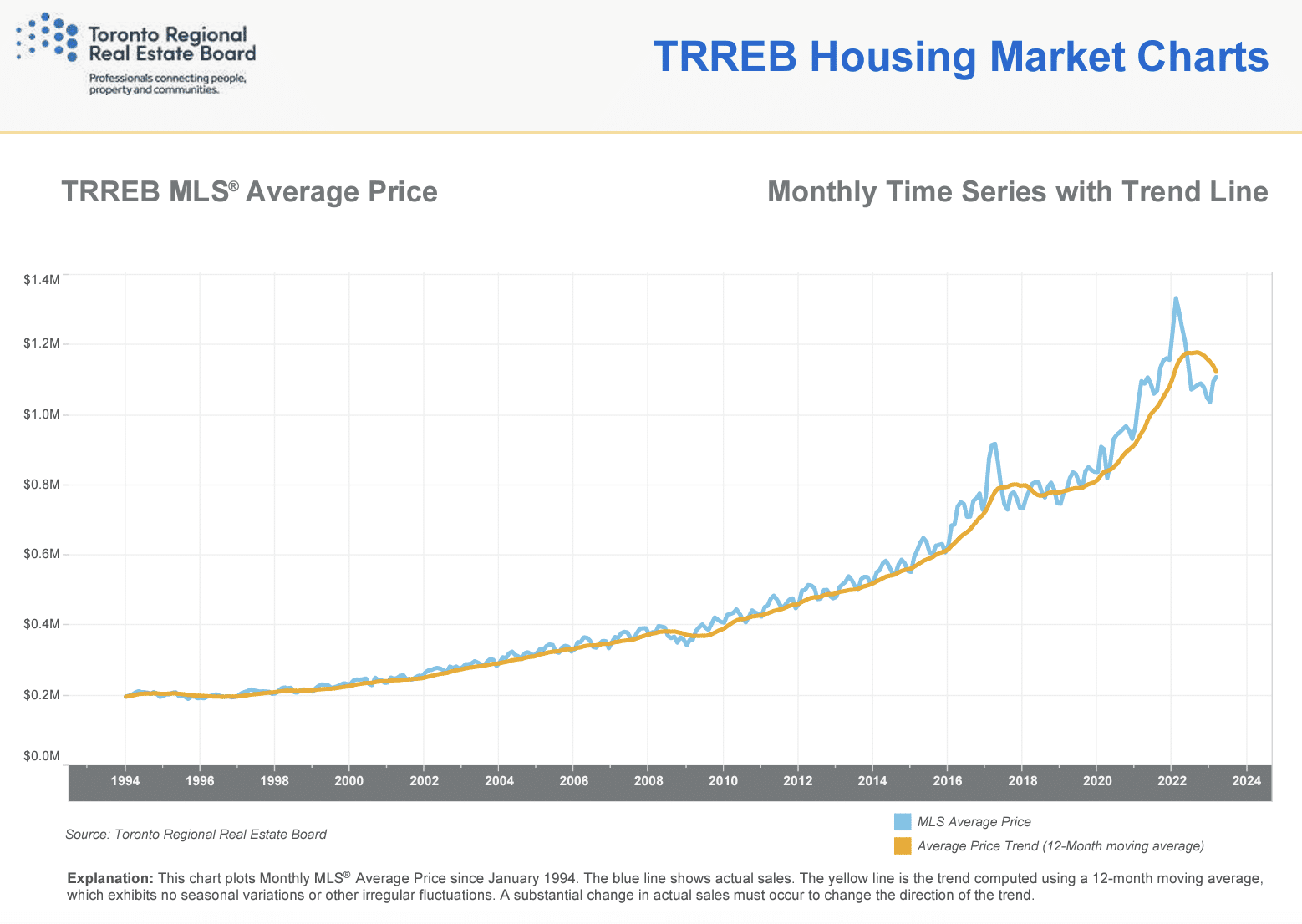 The gains in annual prices of other types of property were also significant. Semi-detached houses had a 40 percent increase in year-over-year value and a 10% increase per month in the average price, whereas condo townhouses experienced an 42.5 percentage increase from year to year, and an increase of 9 percent per month in the average price. Freehold townhouses saw an increase of 38% in price year-over-year, and an 11.4 percentage monthly increase and condo apartments lag behind , with a cost increase by 30% year-over-year.
In analyzing average prices for sold for January 2022, we can see that the average sold price for a semi-detached house located in Brampton was $1,230,275. Freehold townhouses costing $1,129,851, condominium townhouses priced at $873,098, and condos with a price of $622,579.
Semi-detached homes were the sole type of property in Brampton that saw a year-over-year rise in sales. Sales of semi-detached homes increased by four percent over the course of the year to the 124th sales of January in 2022. While detached home sales fell by 21% year-over year to 313 sales. Freehold townhouse sales fell by 30% over the course of the year to 74 sales. Condo townhouse sales dropped 27% over the course of the year at 53 transactions, and condominium apartment sales dropped 24% from year-to-year, up to 38 units.
The supply of homes is still the main topic in Brampton's real estate market, as inventory continues to decrease this month. In January 2022, there were 832 listings January 2022. This is lower by 13% from 961 listings added for January 2021. The 255 active listings as of the end of January 2022 is the 31.6 percent decrease year-over-year. The inventory of Brampton's market for housing has decreased to 0.6 months, which makes one of the smallest of the GTA. The average price sold for homes located in Brampton is 15% higher than the median price of listing due to the fact that the average number of days on the market decreased to six days.
With homes sold within an hour and at 15% more than the price of listing The month of January 2022 proved to be a progressively competitive market Brampton buyers continue to battle for a smaller number of homes.
Market Trends
Median Selling Price

$1.1M

Listing-to-Selling Ratio

105.11%

Price Change (Month)

+3.96%

Price Change (Year)

-3.98%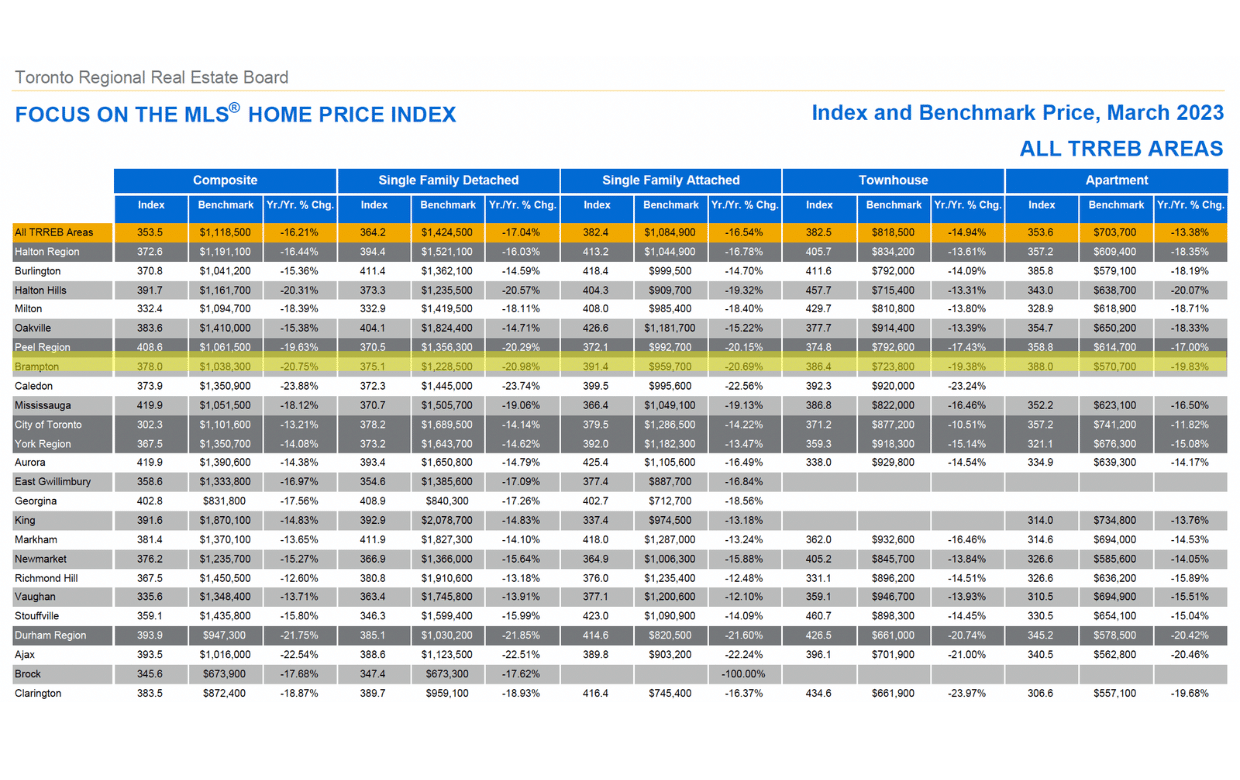 Market Report Summary for April 2023
Updated May 17, 2023
In April 2022, there were 7,940 total residential transactions recorded in Brampton. However, in April 2023, this figure decreased to 7,531 transactions. This represents a year-over-year reduction of 5.2%. In other words, the total number of residential transactions in Brampton in April 2023 was 5.2% lower than the same month in the previous year.
Brampton's average home sold price has declined by 26% since the beginning of the year as the housing market slows down.
On average, the price of a detached home decreased 10% in the past year, costing about $1.18 million dollars now.
The average semi-detached home price decreased by 1% over the past year to $939,000.
The average price for freehold townhouses remained the same from last year to this one.
On average, condo townhouses prices have increased by 1% in the last year to reach around $705k.
The average price of a condo apartment increased by 7% year-over-year, totaling $567k.