Smart home technology has unleashed a paradigm shift in the manner in which we lead our lives, introducing a gamut of comfort, convenience, and serenity. The spectrum of smart home features is vast, extending from automated lighting to voice command assistance, opening up a world of possibilities. This composition delves into the top five smart home features that can invigorate each corner of your abode. These features have been carefully crafted to augment your daily routine, reducing your workload and augmenting security and energy conservation. Regardless of whether you are a tech enthusiast or simply aspireant to modernize your dwelling space, these features deserve a closer look.
Importance of smart home Technology
The integration of smart home technology into our existence holds immense significance, bringing forth ease, efficiency, and security like never before. With its capability to streamline daily chores via mere smartphone taps or vocal commands, time, energy, and manual labor are all conserved, resulting in unprecedented levels of comfort.
Furthermore, smart home technology enhances energy efficiency through its remote monitoring and control of household energy consumption, leading to decreased energy bills and a reduced ecological impact. Meanwhile, its sophisticated security features bring peace of mind, ensuring the safety and protection of both home and family.
In conclusion, the implementation of smart home technology has the potential to greatly elevate the standard of our daily lives, offering boundless benefits that were once deemed unattainable.
Mississauga's Smart Home Solution: 5 Upgrade with Smart Appliances
1.Automated Lighting
Lighting that's in your control, anytime, anywhere! The power of automated lighting will amaze you, letting you effortlessly control your home's brightness with a mere touch of your finger. Imagine never having to walk over to a switch again – a true luxury in convenience.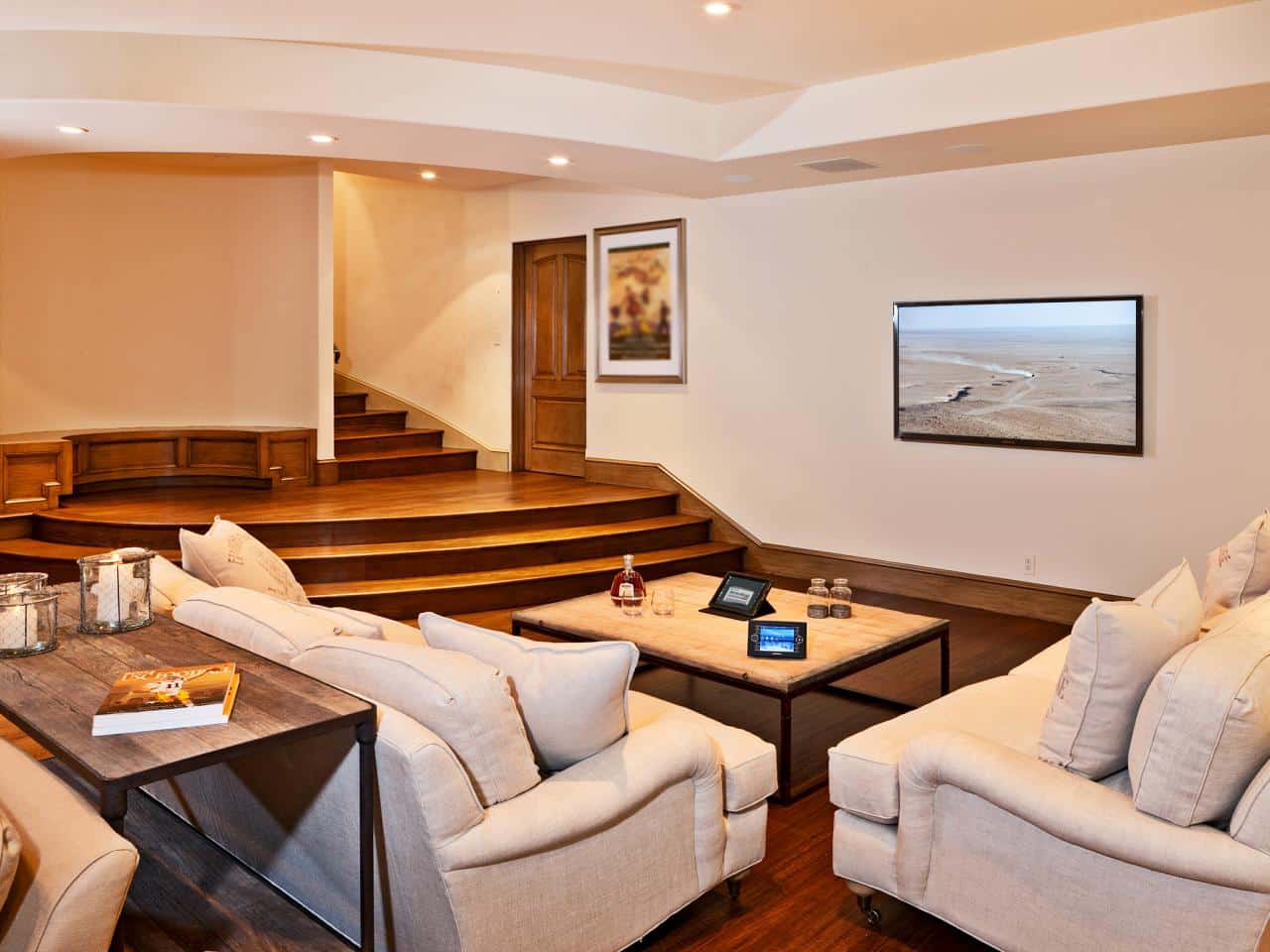 But it's not just comfort – it's smart too! Automated lighting is designed to conserve energy, allowing you to set schedules and adjust brightness levels to save on your electricity bill. And, with the added bonus of deterring intruders by automatically turning on when you're away, it's not just energy-saving but safety-enhancing.
A smart home hub or a mobile app does the trick. Control your lights with voice commands, set routines, schedules and even special scenes for activities such as reading or entertainment.
Philips Hue and LIFX, popular smart lighting companies, offer a range of products such as smart bulbs, light strips, lamps and more. With a variety of options to choose from, the possibilities are endless.
Transform your home into a smart one – upgrade with automated lighting today. With its ease of use, energy savings, and added safety features, it's the must-have feature for a truly smart home.
2.Smart Thermostats
By investing in a smart thermostat, you can take command of your home's heating and cooling from virtually anywhere—even while on the go! You'll be able to program schedules, alter temperatures, and observe energy consumption all with the convenience of your smartphone or tablet.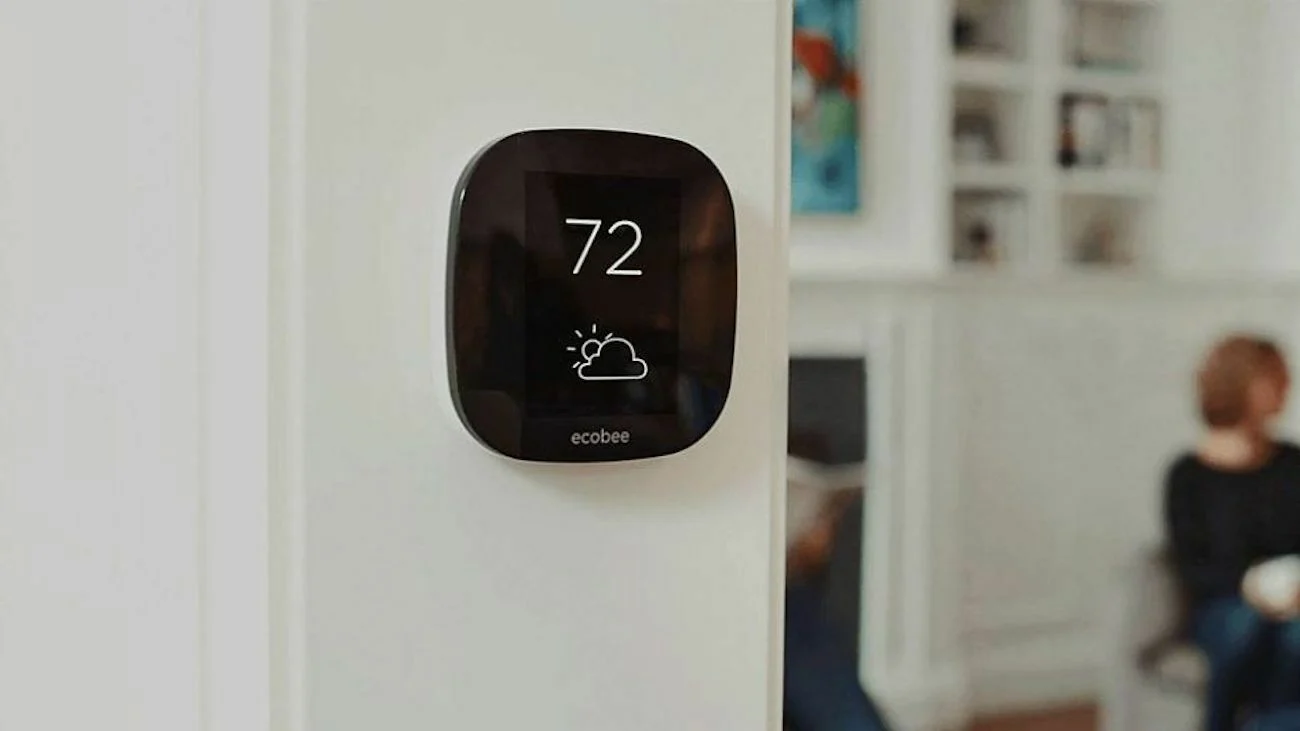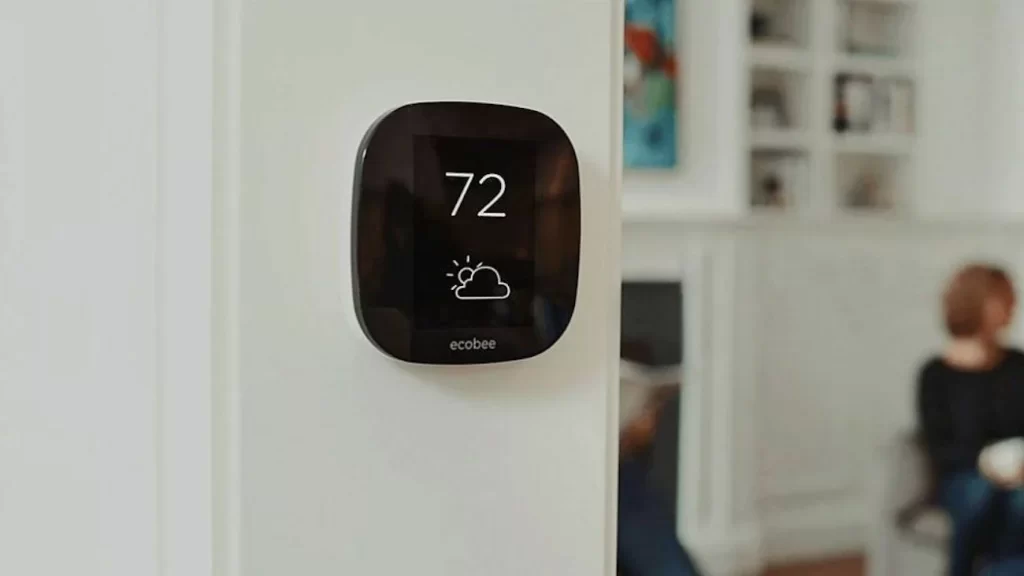 Benefits:
Make energy utilization a breeze with smart thermostats! You can keep track of your power usage and manage it better, leading to reduced electricity costs and increased savings on your monthly bills.
Enjoy the ultimate comfort of being able to regulate your home's temperature remotely, so that you can come back to a cozy atmosphere anytime, regardless of where you are.
Comfort: You can now come home to a perfect temperature everytime! With just the touch of your phone, you can easily adjust temperatures or set up schedules before even leaving the house. No more hot and cold surprises awaiting you at home – enjoy relaxation with ease!
How it Works:
Smart thermostats offer unrivaled convenience as they can be connected to your home's Wi-Fi and managed via a mobile application or voice instructions. Furthermore, these devices are intelligent enough to note your heating and cooling habits over time, allowing them the capacity to constantly readjust temperatures for maximum energy efficiency.
Examples:
Nest: Introducing a revolutionary smart thermostat that is both easily accessible and packed with features, such as energy history tracking, an expansive display screen, and the convenience of voice control.
Ecobee: Search no more for the perfect smart thermostat! This popular brand gives you room sensors, remote temperature control and energy reports – all conveniently accessible through a single device. Get ready to make your home cozy with this incredible technology!
To sum up, smart thermostats are an astute and effective way to regulate the temperatures of your home. Thanks to their capacity for monitoring energy usage, adjusting remote settings and setting schedules, a smart thermostat can save you both money and guarantee maximum comfort.
3.Voice-Controlled Virtual Assistants
Forget having to physically move around your home, now you can control all of your smart devices with the effortless power of voice command technology! With Alexa and Google Assistant, at the sound of your voice you can stream music, ask for reminders and effortlessly manipulate any compatible device – giving you true convenience in the modern age.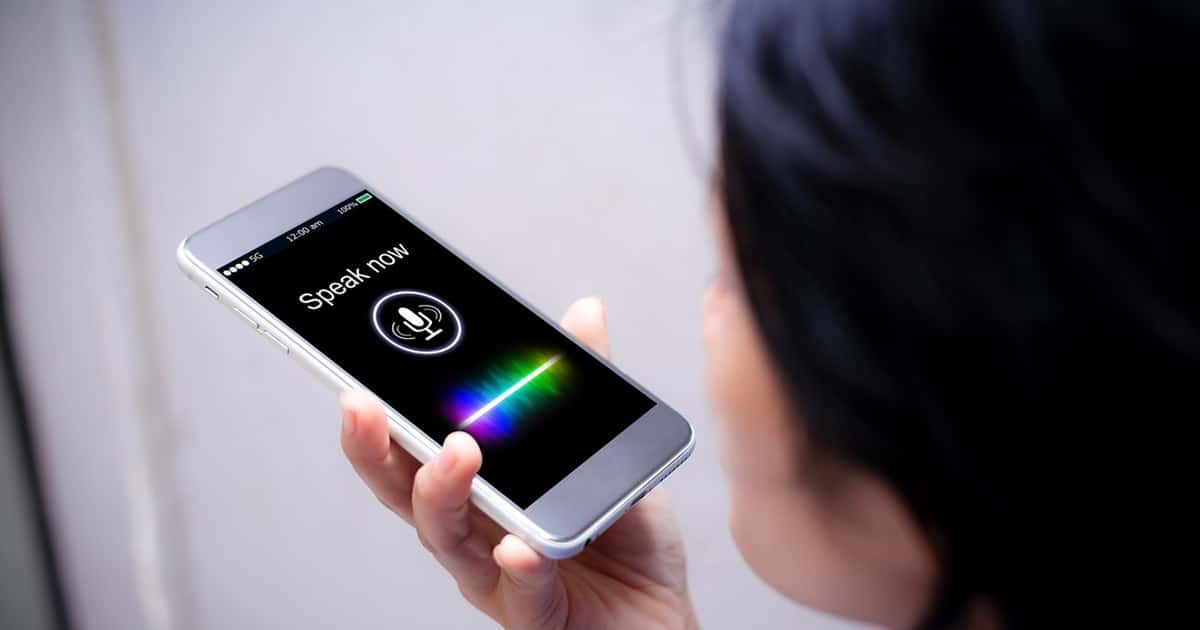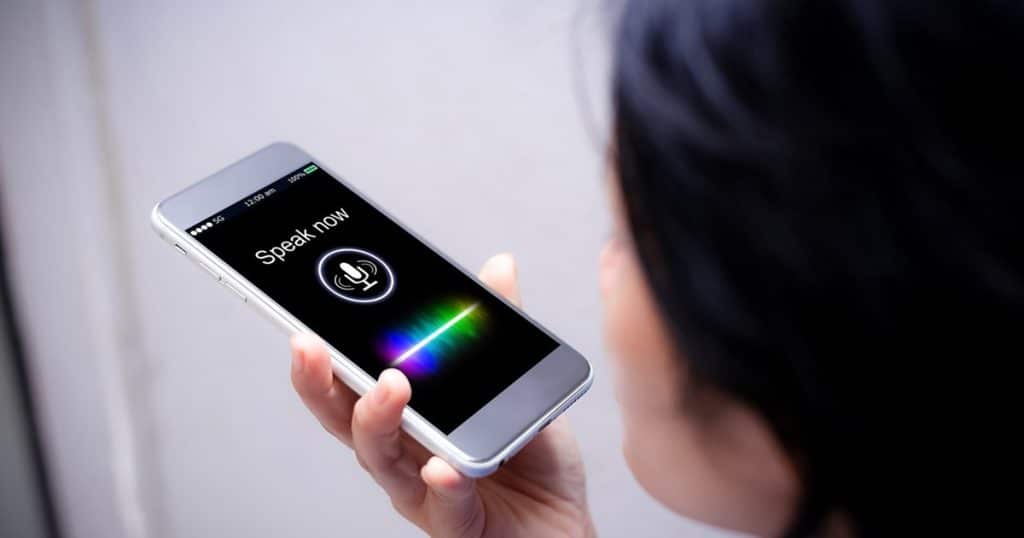 Benefits:
Enjoy effortless convenience with voice-controlled virtual assistants! No longer do you need to manually interact with devices, as these helpful solutions allow for tasks to be completed hands-free.
Integration: Virtual assistants give a smooth, unified smart home experience by granting control over multiple smart devices.
Amusement: Virtual assistants can be used for an array of entertainment activities, from playing music or audiobooks to ordering takeout.
How it Works:
By connecting to your home's Wi-Fi network and linking with smart devices, voice assistants make it possible for you to control a variety of tasks in the comfort of your own living room. Voice commands are quickly interpreted and executed, while these virtual helpers have been trained to become even more efficient over time; they continue learning from each task they complete in order to provide an improved user experience.
Examples:
Amazon Alexa is a revolutionary virtual assistant that can do it all, from controlling your smart home devices to playing music and setting reminders. With the vast selection of features available, you'll be amazed at how helpful and convenient your Amazon Alexa will make life!
Google Assistant is an incredibly powerful virtual assistant developed by Google that provides the same services and capabilities as Alexa, but also offers you access to the world of Google searches and controlling devices compatible with this technology. With just a few simple commands, you can open up a new realm of convenience!
Ultimately, voice-controlled virtual assistants are a fantastic and hassle-free way to manage your smart home. As their range of duties is vast – all achievable through vocal cues – these tools offer an effortless integration into the world of 'smart homes'.
4.Smart Locks
Smart locks are a modern home feature that grant you the ability to control who enters your residence using either your phone or an advanced keypad. Easily lock and unlock doors, provide access for visitors, and track comings and goings – all straight from your pocket! With this technology available at just the touch of a button, safeguarding what matters is simpler than ever before.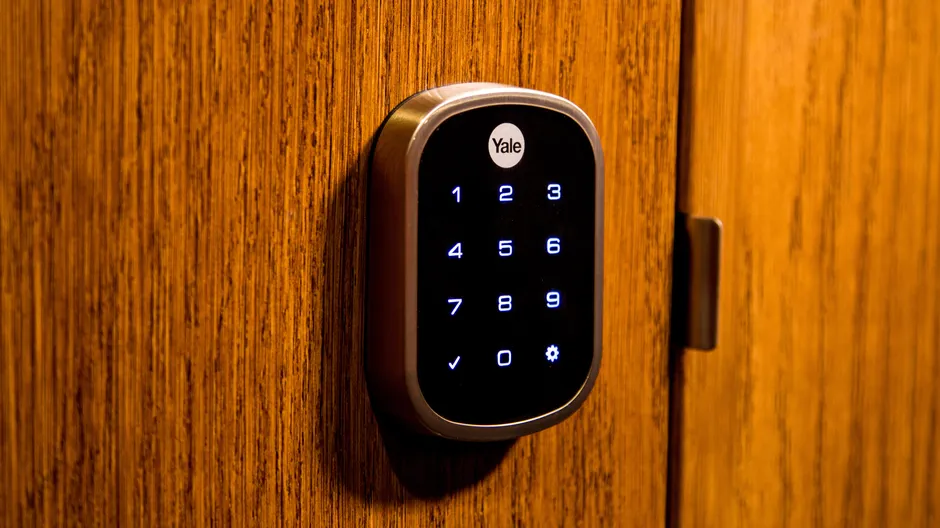 Benefits:
Simplicity: Smart locks are the perfect replacement for traditional keys, granting you access to your home from anywhere in a few clicks.
Smart locks are the perfect way to keep your home secure while also allowing flexibility when it comes to granting access. Not only do they monitor who enters and exits, but you can set up safe access codes as well! Plus, if you ever need someone else such as a pet sitter or house cleaner in your absence there's no need for physical keys – smart locks offer an easy solution with temporary access grants.
How it Works:
Unlock the possibilities with smart locks! With a simple connection to your home's Wi-Fi network, you can conveniently control your door through a mobile app or keypad. Smart locks even have the intelligence to detect when you leave and automatically lock behind you; they will also send notifications whenever someone enters or leaves your property, giving you extra peace of mind.
Examples:
August: A renowned smart lock company providing a variety of features such as keyless entry, automated locking system and compatibility with virtual assistants. Unlock the ultimate convenience with August!
Schlage provides security and convenience with its keyless entry, remote control, and tamper-resistant design—features that make it a popular smart lock brand.
To sum it up, smart locks provide an ideal solution for adding an extra layer of protection and convenience to your home. You can lock or unlock doors without needing to be physically present at the location; track when visitors come in and out; grant access privileges remotely – all this affords you a greater sense of security as well as more freedom.
5.Smart appliances
Smart appliances are the ultimate way to upgrade your home. Not only do you have complete control and monitoring of your household appliances from a smartphone or other device, but also you can save energy costs and simplify life with this incredible technology!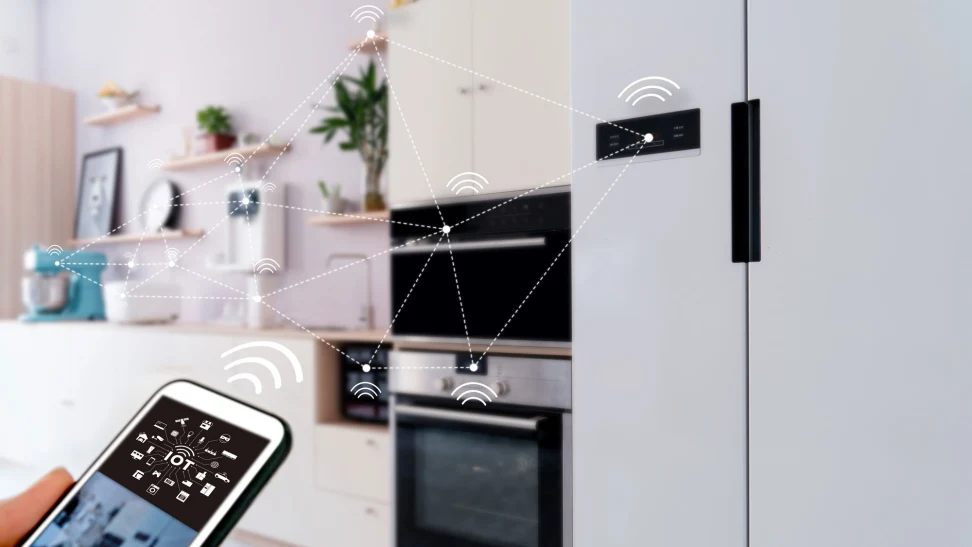 Benefits:
Smart appliances provide you with the ultimate convenience, as they enable you to remotely control and monitor your machines from any location. Thus, giving you peace of mind that your household is always running without any issues or problems.
Smart appliances are a great way to save energy and money. Thanks to their monitoring capabilities, you can accurately measure your energy consumption and make eco-friendly decisions that will reduce costs in the long run.
Enjoy Improved Performance with Smart Appliances: Thanks to the clever technology of smart appliances, you can efficiently monitor and troubleshoot any performance issues that may arise, allowing for a hassle-free experience in keeping your household running smoothly.
How it Works:
Smart appliances offer enhanced convenience and energy-efficiency in your home, as they are equipped to connect with your Wi-Fi network and be managed through a mobile app or intelligent device. Plus, many of these devices possess the capacity to study your typical habits so that it can adjust performance accordingly. For instance, you may set up automated lighting schedules for early mornings or activate air conditioning after returning from work each day – making life simpler than ever!
The Samsung Smart Fridge is revolutionizing the way we interact with our refrigerators! This state-of-the-art device offers features such as remote control, internal cameras and integration with virtual assistant apps – making it easier than ever to keep your food fresh. With its cutting edge technology, this smart fridge will make meal prep a breeze!
Get the power of convenience with LG's Smart Washer & Dryer Set! This advanced duo is equipped with features such as remote control, energy monitoring and performance optimization – making laundry day easier than ever before.
Ultimately, smart appliances are a highly efficient and convenient way to regulate your home's devices. From remote locations, you have the option of controlling or monitoring all of your appliances with ease – allowing improved convenience, control, and most importantly energy cost savings.
FAQ:-
What is smart home examples?
Examples of smart home technology run the gamut from entertainment to security. Think beyond traditional devices like televisions, stoves, and stereos to encompass sophisticated systems such as alarm systems, doorbells, and garage doors. By purchasing these smart devices separately and over time, it's possible to transform your house into a fully-integrated smart home, piece by piece, with ease.
How do I convert my normal home to a smart home?
10 Steps to Transform Your Traditional Residence into a Connected Smart Home: To turn your traditional home into a smart home, you can incorporate voice-controlled smart speakers for ultimate convenience, invest in a cutting-edge smart security system for peace of mind, upgrade to smarter lighting solutions to enhance the ambiance, implement smart thermostats to effortlessly regulate the temperature, install smart cameras for enhanced security and surveillance, adopt smart cleaning solutions, install smoke detectors with advanced features for fire safety, upgrade to a smart TV for an elevated entertainment experience, and consider adding other smart home appliances to further enhance your living space.
What is the most used smart device?
The most widely adopted smart device is the Google Home Voice Controller. This smart IoT device enables users to control various functions such as media, alarms, lighting, thermostats, and volume simply through voice commands. As of January 18, 2023, it remains one of the most popular smart home devices according to a report on the "18 Most Popular IoT Devices in 2023".
Can a smart home be hacked?
Yes, a smart home can be hacked, however it is very rare. Hackers would need both proximity to your Wi-Fi network and the right technology. Public Wi-Fi networks with lots of people on them are generally much more attractive targets. To protect a smart home from potential hackers, use a firewall on the router, keep devices updated, use strong passwords, enable two-factor authentication, and create a separate guest network. Additionally, be aware that smart homes are rarely targeted by hackers and that the biggest danger usually comes from employees of security monitoring companies or hacked databases.