As autumn's chill embraces Canada, the vibrant festival of Diwali brings warmth and light to communities across the nation. Celebrated by over a million Canadians, Diwali, the "Festival of Lights," is much more than a splendid spectacle of fireworks and candle-lit evenings. It's a time of reflection, marking new beginnings and the triumph of good over evil. In Canada, this joyful celebration transcends cultures, inviting everyone to partake in its luminescent spirit​​​​​​​​​​.
In the heart of Mississauga, Team Arora, a Canadian real estate agency, embraces this spirit wholeheartedly. Our engagement in Diwali festivities is not just about acknowledging a cultural event; it's a testament to our commitment to celebrating the rich tapestry of diversity that defines our community. At Team Arora, we believe that understanding and respecting cultural traditions is integral to building strong, inclusive neighborhoods. Diwali, with its universal themes of hope, renewal, and joy, resonates deeply with our values, driving us to connect more authentically with the people we serve.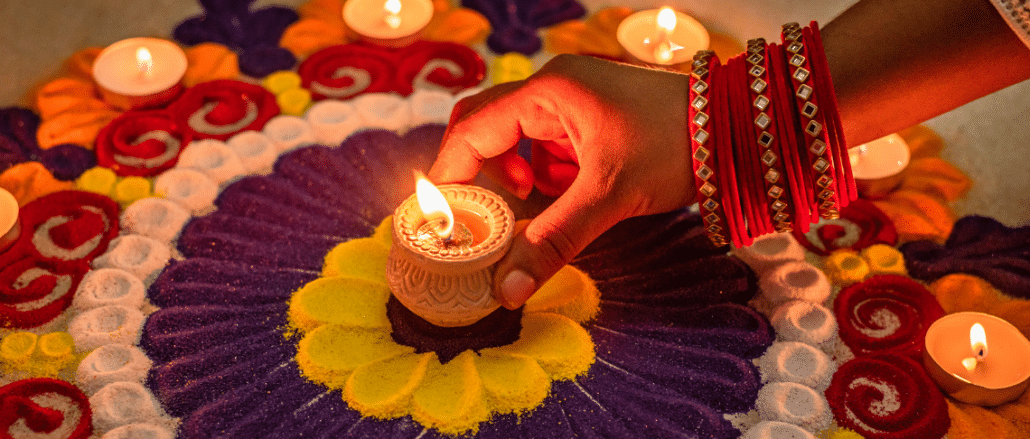 This guide is a reflection of that ethos. As Diwali illuminates our city, we invite you to explore its significance, traditions, and the myriad ways it brightens our shared community in Mississauga.
The Significance of Diwali
Diwali, or Deepavali, is a festival rich in history and religious significance, deeply rooted in ancient Indian traditions. It is primarily a Hindu festival but is also celebrated by Jains, Sikhs, and Buddhists, each with their own historical narratives and religious significance. For Hindus, Diwali commemorates the return of Lord Rama to Ayodhya after defeating the demon king Ravana, symbolizing the victory of good over evil. Jains observe it to mark the attainment of moksha by Mahavira, while Sikhs celebrate it as the day Guru Hargobind Ji was freed from imprisonment.
Globally, Diwali's observance reflects these diverse religious backgrounds and cultural nuances. It's a time for spiritual introspection, where the lighting of diyas (clay lamps) signifies the triumph of light over darkness and knowledge over ignorance. The festival spans five days, each day having its own unique traditions and stories associated with it.
One of the universal aspects of Diwali across the globe is the coming together of communities. Whether it's in the bustling streets of India or the multicultural cities of Canada, Diwali is a time for family reunions, feasting, sharing sweets, and enjoying cultural performances. The universal appeal of Diwali lies in its message of hope and renewal, making it a festival that resonates with people from all walks of life, irrespective of their cultural or religious background.
Diwali Celebrations in Mississauga
In Mississauga, a city known for its vibrant multicultural tapestry, Diwali is celebrated with great enthusiasm and community participation. The city hosts a variety of events and festivities that reflect the cultural richness of its residents. From traditional Diwali galas at the Red Rose Convention Centre to festive gatherings like the Diwali Diya Paint Night and the Karwa Chauth/Diwali Celebrations, these events offer a glimpse into the diverse ways the festival is celebrated​​​​​​​​.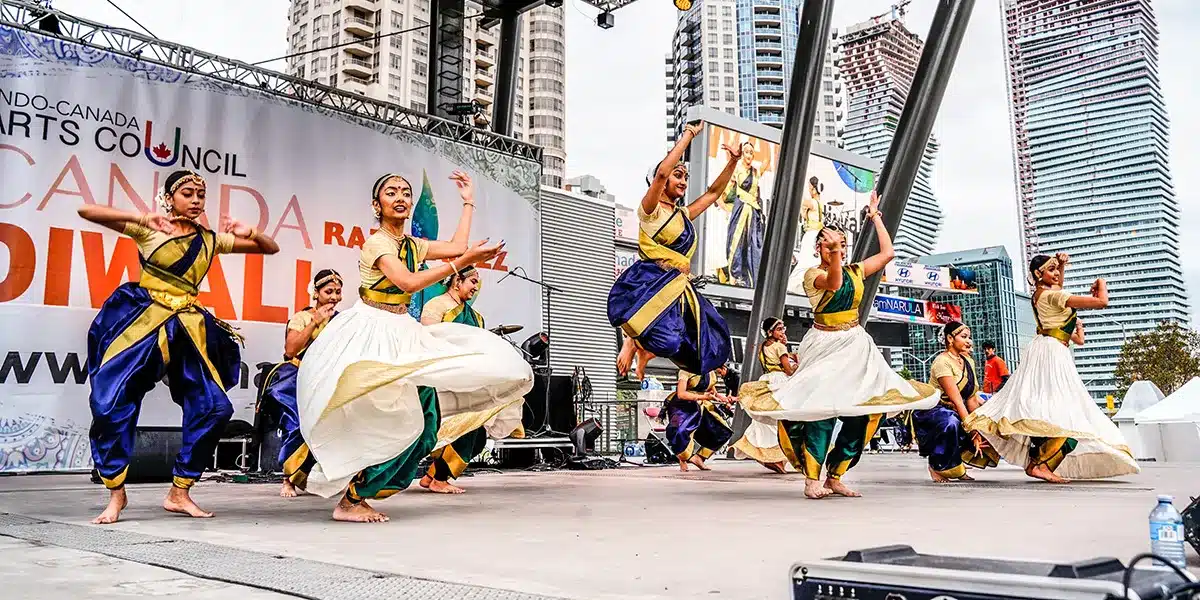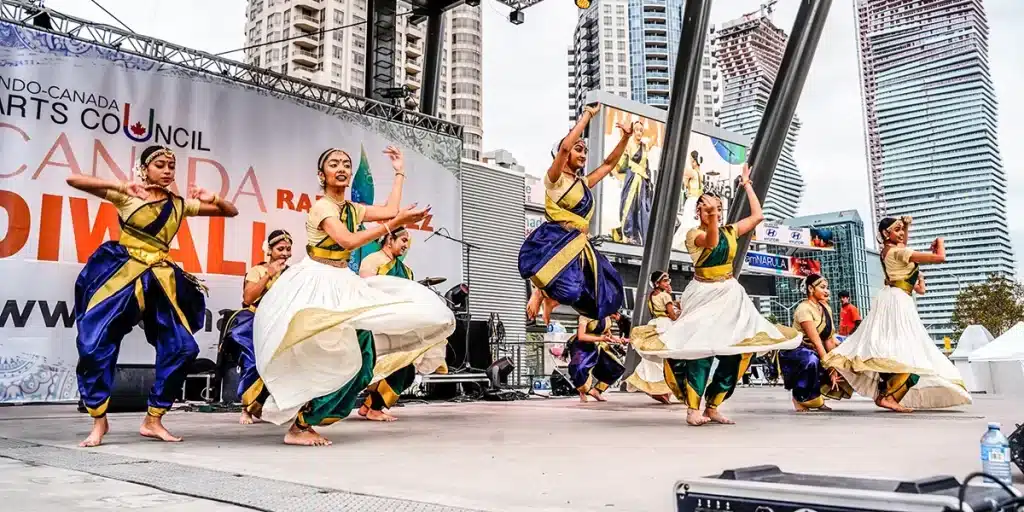 These celebrations are more than just social events; they are a platform for cultural integration and community bonding. Residents of all backgrounds come together to enjoy the festivities, dressed in traditional attire, enjoying music, dance, and a plethora of culinary delights. These gatherings serve as a bridge between various cultural groups, fostering a sense of unity and mutual respect. In essence, Diwali in Mississauga is not just a celebration of a festival but a celebration of the city's diverse and inclusive spirit.
Here are 10 places in Mississauga where Diwali is celebrated:
Rogue Night Club: A Diwali event with DJ Dharak on November 11

.

Diwali shopping event: A unique shopping event on November 11, featuring designer Indian and Pakistani dresses and free Henna designs

.

Indian Women Circle's Grand Tyohaar Diwali Gala: A glamorous affair on November 18, with a full-course vegetarian dinner and a fashion runway

.

Celebration Square: The annual free event Canada Diwali RazzMatazz on October 14 and 15, featuring a Diwali Bazaar, Diwalicious food court, and live entertainment

.

Karwa Chauth/Diwali Celebrations: A traditional event on October 28, with a three-course meal, games, DJ, dancing, and a Mehndi Corner

.

Diwali Dhamaka 2023: A cultural event happening on November 5 and 11, immersing attendees in tales of triumph, love, and unity

.

The Rec Room's Diwali Dhamaka party: A Bollywood-themed party on November 11

.

National Banquet Hall: Sparkling Diwali Mela on October 29, featuring food, shopping, a DJ, and fun kids activities

.

Grand Tyohaar Diwali Gala 2023: A celebration at the Red Rose Convention Centre on November 18, with a full-course dinner, dance performances, and a fashion walk

.

Diwali fireworks at private properties: Mississauga residents are allowed to set off fireworks on their property without a permit on November 12

.
Diwali Decorations and Traditions
The essence of Diwali lies in its captivating decorations and meaningful traditions. In homes and public spaces, the glow of diyas (clay lamps) symbolizes the victory of light over darkness. Rangolis, intricate and colorful patterns created on the floor, invite prosperity and good luck. Homes are often adorned with lights and flowers, signifying joy and purity.
View this post on Instagram
In Mississauga, these traditional decorations are readily available, reflecting the city's embrace of cultural festivities. Shops like Aksyas Fashion & Giftware and Bombay Trendz offer a range of festive attire and decorations. For those seeking to light up their homes, Henna by Pramilla offers beautifully hand-painted Diwali candles. Additionally, Flower Fantasy provides vibrant floral arrangements to complete the festive decor. The availability of these items in local stores not only adds convenience for residents but also enhances the city's collective Diwali experience​​.
Diwali Foods and Sweets
Diwali is synonymous with a variety of traditional foods and sweets, each symbolizing celebration and joy. Popular delicacies like Ras Gulla and Laddoo are not just treats for the palate but also represent the sharing of happiness and prosperity during the festival.
In Mississauga, one can indulge in these traditional sweets at places like Premium Sweets, which offers a range of delicious treats, including specially curated Diwali sweet boxes. These establishments not only provide a taste of traditional Diwali flavors but also serve as gathering spots for the community to come together and celebrate the festive spirit​.
Diwali and Real Estate – Team Arora's Perspective
The celebration of cultural events like Diwali significantly impacts the real estate market. Understanding the unique needs and preferences of different cultural communities is vital in the real estate industry. For Team Arora, this means recognizing the importance of homes in proximity to places of worship or with specific architectural features that resonate with various cultural groups.
Team Arora embraces this diversity by catering to the diverse cultural needs in housing. This approach involves not only understanding the cultural nuances of clients but also building trust and establishing a strong rapport within different cultural communities. By aligning their services with these varied cultural requirements, Team Arora not only enhances client satisfaction but also strengthens its position as a culturally sensitive and inclusive real estate agency in Mississauga​.
View this post on Instagram