At our core, we are a team of experienced professionals who understand the complexities of the real estate market. Whether you're looking to buy or sell a home, invest in pre-construction projects, lease commercial space, or develop land, we have the expertise to guide you through the process.
In the residential real estate sector, we understand that buying or selling a home is one of the most significant transactions you will make in your lifetime. That's why we take a personalized approach to every client we work with, ensuring that we fully understand your needs and preferences. From there, we use our extensive knowledge of the local market and our relationships with other industry professionals to help you find your dream home or sell your property quickly and efficiently.
When it comes to pre-construction, we have a proven track record of helping investors identify and secure high-quality, high-potential projects before they hit the market. Our team has the expertise to evaluate pre-construction projects and determine their potential for growth and profitability, ensuring that our clients are making informed investment decisions.
"Real People, Real Reviews"
Our Google Review Proves Our Dedication to Exceptional Real Estate Services. Don't Just Take Our Word For It!"
At our company, we understand the importance of authenticity and trust when it comes to choosing a real estate provider. That's why we take great pride in the reviews and feedback we receive from our clients. Our recent Google review serves as a testament to our commitment to providing exceptional service and expertise to every client. We believe in the power of human connections and personalised service, and it's reflected in every aspect of our business. So, whether you're buying or selling a home, investing in pre-construction projects, or developing land, you can trust us to deliver the best results, as confirmed by our valued clients.
Results Confirmed By Our Valued Clients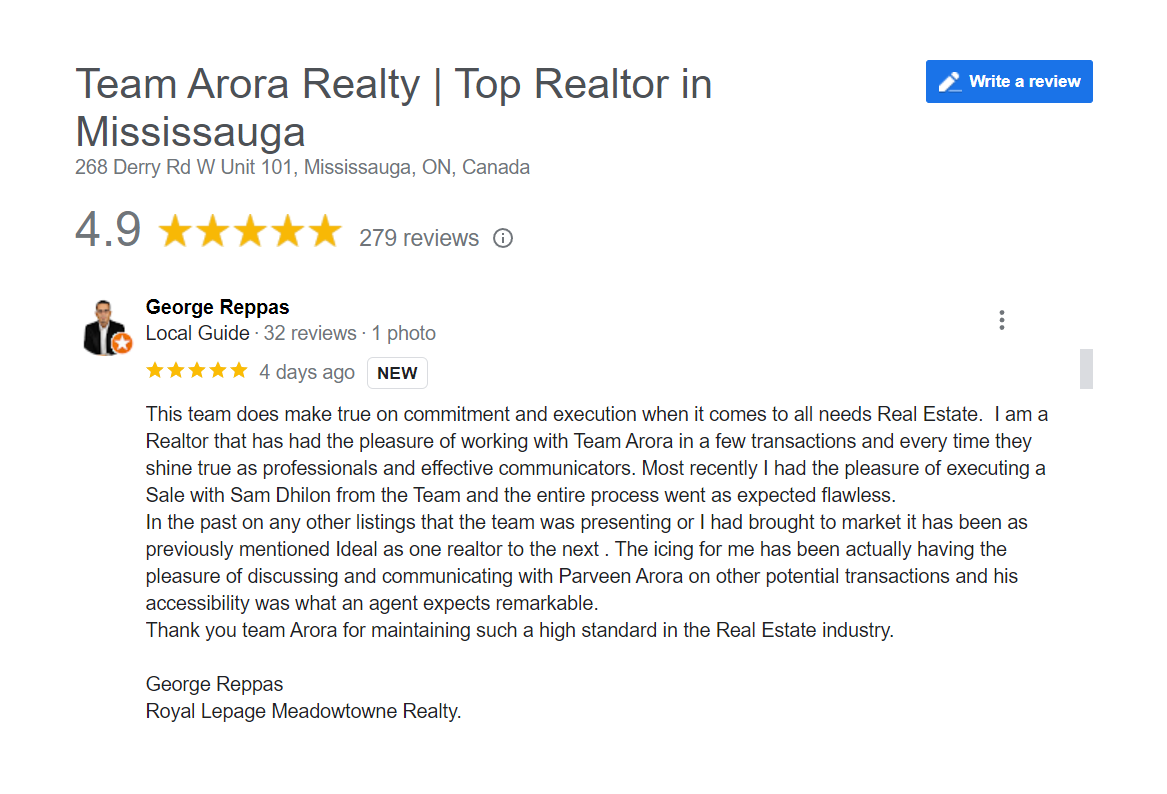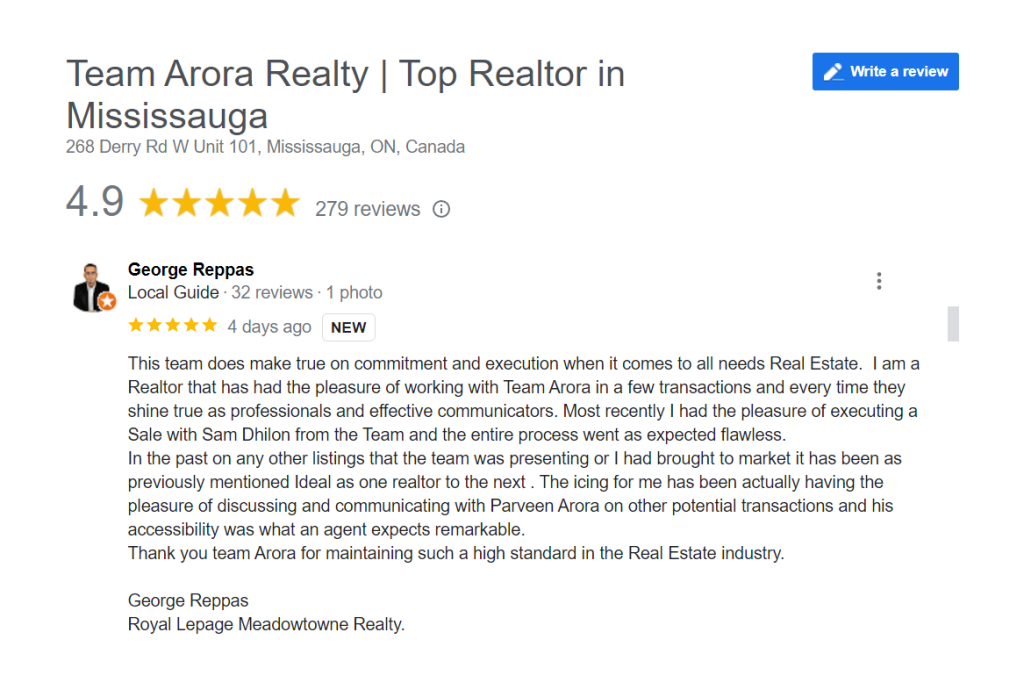 At Team Arora, our dedication to excellence in the real estate industry is reflected in the positive feedback we receive from our clients, including this recent review from a fellow Realtor. We understand that buying or selling a property can be a stressful and overwhelming experience, and that's why we strive to make the process as smooth and seamless as possible. Our team of experienced professionals is committed to providing personalized service, effective communication, and flawless execution of every transaction.
Our recent collaboration with Sam Dhilon from our team is just one example of how we deliver on our commitment to excellence. The transaction went flawlessly, and we were able to achieve the expected results for our client. We also take pride in our accessibility and open communication with our clients. As mentioned in the review, Parveen Arora, our team leader, was readily available to discuss potential transactions, ensuring that our clients feel supported and informed throughout the entire process.
Understand What Important In Real Estate
We believe that maintaining a high standard of service is crucial in the real estate industry, and we are proud to be recognized for our efforts. Our team works tirelessly to stay up-to-date on the latest market trends and industry developments, ensuring that our clients receive the most comprehensive and effective service possible. So if you're looking for a real estate team that puts your needs first, delivers exceptional service, and achieves outstanding results, look no further than Team Arora. We're dedicated to making your real estate journey a success.
In the commercial real estate sector, we have a deep understanding of the needs of business owners and investors. We work closely with our clients to identify the best commercial properties for their needs, negotiate favorable lease terms, and manage their properties to maximize returns. Finally, in land development, we have a proven track record of success in helping landowners navigate the complex process of developing their land. We provide a full range of services, from initial site evaluation to project management, to ensure that our clients achieve their goals.
Our recent Google review has reaffirmed our commitment to excellence, and we are confident in our ability to deliver the highest level of service to our clients. We are passionate about real estate and are dedicated to using our expertise and experience to help our clients achieve their goals. In this blog, we will be sharing our insights, expertise, and news from the world of real estate. From tips on buying and selling a home to the latest trends in commercial real estate, we'll cover it all. So, be sure to check back regularly for the latest updates, and don't hesitate to contact us if you have any questions or are ready to get started on your real estate journey.